Donor Story 1
"When I started donating to Semovo, I worked as a Supervisor in a Starbucks, but this year's been full of ups and downs, so I then worked in a Morrisons for a while. I'm now at a Curry's, and I'm hoping to start training as a teacher this September - in all honesty, donating has been a bit of motivation for me. It's made me think of the person I want to be eighteen years from now. The person I'm helping to bring into the world might one day decide to meet me. I'm a keen reader and studied creative writing at university, so I spend a lot of my time reading and writing, both hobbies that 2020 can't stand in the way of - and no prizes for guessing what I want to teach!"
"Donating sperm wasn't something I'd considered until I stumbled across the advert for Semovo on Facebook, but when I saw it, I knew it was something I wanted to do. I've known people that can't have kids of their own, no matter how much they want them, people I know would make the best parents one day, and I felt that if there was something I could do to help people like that, then I should, and here I am. My first samples are almost out of quarantine, so any day now, I can start helping those people I want to."
"I didn't do much external research on the process, but honestly, I didn't have to. Semovo has been so helpful every step of the way, giving me all the information I could want and all the support necessary. They can't prepare you for having awkward conversations at your donation appointments, but that's a small price to pay for putting some good out there in the world, and you get used to it after a while. Apart from that, it's a pretty straightforward process - you have to have blood tests taken pretty regularly, but there's no real way to avoid that."
"I'm quite happy with Semovo and the donation process in general and plan to continue donating with them. For a small bit of time out of your day, it's a really rewarding feeling. If you're considering applying, all I can recommend is that you do - there are people on hand to talk you through the whole thing, with a counselling session as well to allay any fears you might have. It doesn't hurt to try, and you're putting some good out there in the world as a result."
Donor Story 2

"I'm a 32-year-old donor, and I work full-time as a data analyst for a global professional services firm. However, I don't think my job is very 'me,' and I prefer to define myself by my more creative hobbies and interests: I play the piano and clarinet, and I studied languages at university, which means I now speak fluent French, Spanish and Italian. I have had some wonderful travel experiences because of this. I'd say I'm a very easy-going person, and I've got to know myself better as I've got older: what I want out of life, what makes me happy, my limits, and my sense of right and wrong. As a 30th birthday gift to myself, I decided to go and do a Master's degree at Leeds University, and it was there that my donor journey started."
"I had actually been thinking about doing it for several years already. Still, I'd never made any concrete steps towards actually doing it, partly out of nervousness and partly because I didn't really know where to start. I was already a blood donor and got a great sense of satisfaction out of knowing that I was helping people by donating, so it seemed logical to me that I could and should donate my sperm too."
"I don't know if Facebook's algorithms were reading my mind but not long after I had started my Master's degree, I saw an ad on Facebook for Semovo, and at that point, I knew I had no excuses to apply."
"I just entered some basic info and my contact details, and not long after that, I had a call back from someone on the Semovo team who was able to talk me through the first steps to becoming a donor. I was still a little nervous about the whole process. Still, everyone I spoke to after that point, from the counsellor to the consultant to the donor team, were all really friendly and down-to-earth and made me feel totally at ease with what could be a somewhat embarrassing situation. I'd say it took around a month from my initial enquiry to being signed off as a donor, and I began to donate once a week after that. I actually felt really comfortable and happy attending the donation clinics as the donation team (both male and female staff) quickly got to know me and were really friendly."
"The most difficult part by far was writing my pen picture and goodwill message – how do you describe yourself to any potential future parents? Why should they pick you? What do you say to a child born as a result of your donations? After several drafts, I think I managed to do my thoughts and feelings justice in writing."
"It feels absolutely wonderful to know that I'm helping create families of all shapes and sizes, and getting the news that a first child had been born as a result of my donations (and that I might get to meet them one day) was some of the best news ever."
"I'd absolutely recommend Semovo to anyone who's thinking about donating – don't be put off by any preconceived ideas you might have about sperm donation, as the reality of it is nothing like that. Personally, I only wish I'd started sooner."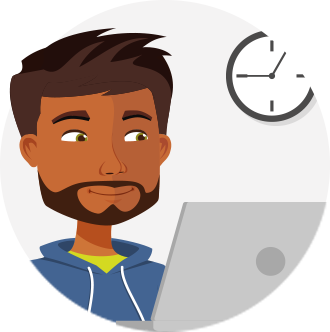 Apply online today
Ready to become a sperm donor? Applying online to start the process could not be easier.

Semovo needs men like you to help others start families.
Simply fill in our contact form and we can talk you through the process.
Still Have Questions?
Visit our helpful FAQ page
Find your nearest Semovo clinic
To find your nearest Semovo clinic please visit our locations page below.

Our Social Side
If you're thinking of starting a family with donor sperm or planning to donate sperm yourself, it is important to choose a regulated clinic